With great power comes great responsibility, quoth Peter Parker/Spiderman's wise Uncle Ben.
Similarly, with an ever-increasing range of products comes the need to recruit specialists to introduce these exciting new offerings to the market.
Following last year's acquisition by global access automation powerhouse FAAC S.p.A., CENTURION has added considerably to its product stable.
The growing expansion of urban development has led to an increase in demand for high-quality, reliable and feature-rich automation and access control solutions, including sliding door automation.
While sliding door operators undoubtedly fall under the umbrella of access automation, they have traditionally reflected an entirely different market segment than the one associated with, for example, gate and garage door automation.
CENTURION recently appointed Emmanuel Sequeira in the role of sliding door specialist.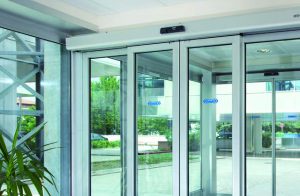 In this newly-created position Manny, as he is known around the office, will be responsible for developing and maintaining relationships with prospective clients involved with sliding door automation in its different incarnations. Furthermore, Manny will be conducting product training at both sales and technical levels.
"I started my career as a salesperson in the Information and Communications Technology industry," says Manny about the start of the journey that eventually – and fortuitously – brought him to CENTURION.
"[In this role I] assisted clients and organisations meet their voice and data needs. In 2017, after 7 years [working] in sales, I took up an opportunity as a product manager for an ICT Distribution Company where I managed brands and products related to VoIP, FTTx and surveillance".
With regards to life outside of work, Many says that he is an avid recreational cyclist and is currently training for the popular 94.7 Cycle Challenge, in which he will be riding for a charity called Love Life; Gift Life. He also enjoys the outdoors, counting amateur golfing, photography, angling, camping, braaing and making potjiekos amongst his numerous hobbies.
"My superpower is being a dad to my two boys, who are 8 years and 4 months old, respectively", says Manny.
Asked what he will be bringing to the team, Manny responded by saying that he has a passion for sales and client relations, a keen willingness to learn as well as a dedication to hard work.
We take great pleasure in welcoming him aboard.