Securex West Africa 2019
Your favourite access automation brand is back at West Africa's premiere security event, Securex, bringing you a carefully curated selection of our finest commercial and industrial solutions.
This year, our focus will be on access control in commercial settings, and we'd like to invite you to come and experience our industry-leading range of products first-hand, including our very latest offerings.
This is your opportunity to meet with members of our dedicated team based in Lagos, who will be at stand E8 (straight ahead through the main entrance), and learn more about how you can make CENTURION part of your next big project and give your clients the ultimate in security and convenience.
You can look forward to seeing the following solutions at Securex West Africa 2019:

Sliding & Swing Gate Motors
Showcasing our extensive range of sliding gate motors, including the D10 industrial sliding gate motor, aswell as the D5-Evo gate motor for domestic and light-industrial applications. Sliding gate motors from FAAC will also be there, including the FAAC 844 and FAAC 884, both ideal in handling the heaviest commercial or industrial-type gates weighing in excess of 2 tons. 
We will also be showcasing our swing gate motors for homes, complexes & businesses. These include our domestic and light-industrial range from both CENTURION and FAAC. 

High-volume traffic barriers
Traffic barriers offer a formidable means of controlling vehicular access, and we have gone to great lengths to ensure that Centurion Systems' barriers can handle the heaviest of traffic volumes while simultaneously offering superior security and a myriad of features.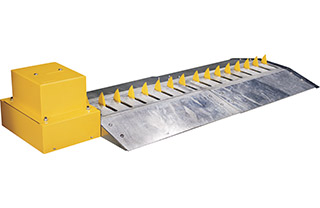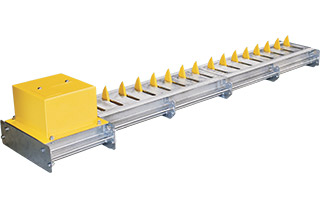 Roadway spikes (tyre killers)
Our tyre killers serve as an effective deterrent to vehicle theft and tailgating in high-volume traffic control applications, and are intended to incapacitate vehicles attempting to circumvent the primary traffic barrier system.

Bollards
The FAAC bollard range includes solutions for vehicle traffic control in residential, commercial, industrial and urban areas and boasts FAAC's celebrated hydraulic technology as well as high-quality components ensuring exceptional performance and greatly simplified installation and maintenance.

Turnstiles
Full-height and waist-height turnstiles for essential pedestrian access control, featuring improved reliability and longevity as well as easy integration with access control equipment.

Door automation solutions
Seamlessly blending stunning aesthetics, whisper-quiet operation and innovative technology, our door automation solutions create a superior user experience at every consumer touchpoint.