Gate motors are the latest domestic appliances to be targeted by criminals, with significant increases in gate motor theft being reported countrywide.
As the South African market leader in gate automation and access control, Centurion Systems is conscious of the gate motor theft epidemic currently sweeping the country.
"It's in the headlines with increasing regularity, and it's not something that one can ignore" says CENTURION's national branch manager Johan Lessing, speaking from his desk in North Riding, Johannesburg, where the company's head office and manufacturing facility are situated.
"We knew we had to ameliorate the situation," he continues. "We knew we had to come up with a viable countermeasure."
This realisation prompted CENTURION to relook the design of their
current theft-resistant cage
designed for the
D5-Evo
sliding gate motor
– their most popular solution – and a
completely overhauled versio
n was announced earlier this month.
Following extensive and rigorous investigations performed by CENTURION's elite Research and Development team, it was found that the
modus operandi
employed in the majority of gate motor theft cases was to break the padlock securing the unit. With the
new theft-resistant cage
, the lock is housed within a
secure steel enclosure
which covers it completely, making it
extremely difficult to access without a key.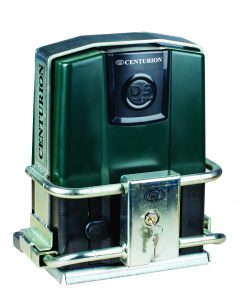 Another significant improvement is that
the critical bracket has been reinforced by means of welding for added strength and reliability
.
Gate motors represent an important part of the home security mix, and the removal thereof leaves the access point vulnerable from a security perspective.
"Ultimately, what we strive for is complete security and complete peace of mind for the end-user who relies on our products to feel safe in their homes, and this new theft-deterrent will go a long way towards achieving that goal" explains Lessing.