Our network is down. Please bear with us.
Please note that we are currently experiencing a network outage and we are able to offer limited technical support until we are back online.Thank you for bearing with us. Our IT team is working hard at getting the problem resolved, and we hope to resume normal service shortly.

Our range of solar panels are constructed from ultra-efficient polycrystalline and have been designed to provide a reliable and cost-effective alternative energy solution for applications where mains power is either not available, or not desirable.
FAAC's contribution to the world of traffic control is a homage to good old-fashioned engineering excellence and emphasises robustness and durability. The design of FAAC's bollards bespeaks Italian flair combined with an all-round beefiness that makes them suitable for virtually any traffic control application.
Get the most out of your access automation system with CENTURION's wide range of supporting products.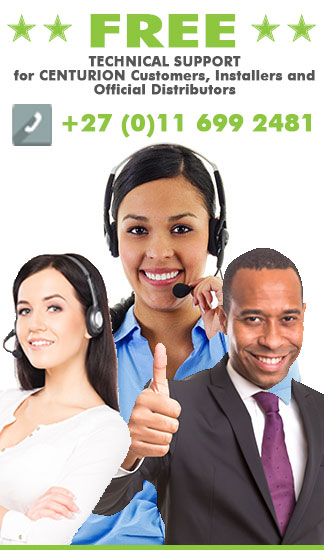 Technical Support Call Centre: +27 11 699 2481 (international) 0861 003 123 (RSA Sharecall number) Support@centsys.co.za