THE NEW FEELING OF CONVENIENCE.
CENTURION's NOVA Code-hopping Remote Control.
NOVA – CODE-HOPPING REMOTE CONTROLS
Fixed-coded remote systems – particularly those using dipswitches to set the code, are very easy to copy or clone. They also offer a very limited number of possible codes. In other words, these systems only provide convenience, with very limited security. CENTURION's solution? The award-winning NOVA remote controls offer code-hopping technology. Each code that is transmitted by the remote is totally and randomly different to the last code transmitted. This prevents unwanted copying of the remote signal and cloning of the remote itself. CENTURION NOVA remote controls offers the same level of security as currently provided by leading brand automobile manufacturers for immobilising vehicle alarms and activating door locks.

MAIN FEATURES:
Durable silicone buttons made to last and last 
Sleek and stylish carbon look.
433Mhz operating frequency. 
Transmitters with one to four buttons.
Transmitter quick and easy to open for battery replacement.
Self-learning receivers with one, two and four channels.
Receivers incorporate stable narrow band technology.
Weatherproof housing for receiver.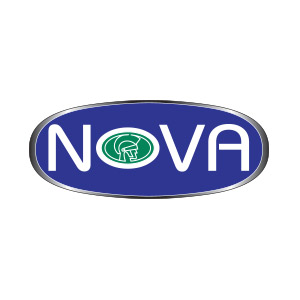 Technical Specifications

| | NOVA General Data | |
| --- | --- | --- |
| | Frequency | 433MHz |
| | Coding | Code-hopping |
| | Transmitter models | 1, 2, 3 and 4 button |
| | Receiver models | 1, 2 and 4 channel |
| | Receiver self-learning memory | |
| | One-channel | 62 |
| | Two-channel | 250 |
| | Four-channel | 250 |
| | NOVA Transmitter | |
| --- | --- | --- |
| | Frequency stability | 0.032ppm/°C 10ppm year |
| | Operating current | 17mA |
| | Minimum operating voltage | 7V DC |
| | Operating temperature | -15°C to +50°C |
| | Weight with battery | 38g (packed) |
| | Battery type | GP23 12V |
| | NOVA Receiver | NOVA HELIX Single Channel Receiver | NOVA HELIX Multi Channel Receiver |
| --- | --- | --- | --- |
| | Operating frequency | 433.92MHz | 433.92MHz |
| | Supply voltage | 12V – 24V DC | 12V – 24V DC |
| | Quiescent current @ 12V DC | 11mA | 11mA |
| | Maximum current @ 12V DC | 40mA | 40mA |
| | Operating temperature | -15°C - 50°C | -15°C - 50°C |
| | Humidity | 0 – 90% (non-condensing) | 0 – 90% (non-condensing) |
| | Sensitivity | -115dB | -115dB |
| | Self-learning memory | 62 buttons | 250 buttons |
| | Receiver enclosure | UV stabilised ABS | UV stabilised ABS |