It has often been said that
a chain is only as strong as its weakest link
.  Similarly, a business is only as strong as the security with which it protects its assets.  Nowhere is this truer than in the
industrial milieu
, an arena in which
warehouses and factories
house the very lifeblood of the undertaking and can, without the proper security measures, rapidly become a company's Achilles Heel.
Time for a brief history lesson – you might want to take notes as there's a test afterwards (just kidding!).
CENTURION first entered the industrial arena back in 2003 (although we were producing light-industrial solutions in 1990 already!) with the introduction of our ultra-strong A10 AC slider, a mains-powered beast capable of automating gates weighing up to two tons.  This innovation firmly cemented our place as The Automatic Choice not only for domestic sites, but also for applications requiring a little more muscle.
Then, in 2009, we released the D10 slider, again changing the face of access control.  Most of you will by now be familiar with the D-Series platform and the incredible convenience associated with it; the D10 took industrial automation to a whole new level by combining amonstrous push force of 30kgf with the intelligent and undeniably user-friendly controller that is the basis of the D-Series platform.
Now, you might be wondering what on earth the abovementioned operators have to do with securing distribution warehouses.  Well, nothing as such, but they do serve as a nice little introduction for the beast, the behemoth, the titan that is…the RSO.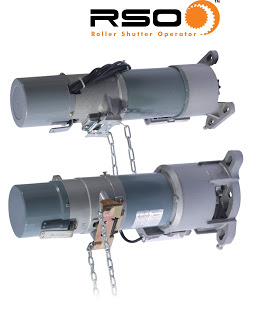 Cue the dramatic music!
What is the RSO?, you ask, your interest suitably piqued.  Well, put quite simply, the RSO isthe power lifter of industrial automation.  It is a powerful and robust roller shutter operator providing all the muscle you need to automate extremely heavy roller shutters.
Three models are available, each with their own unique way of showing weighty doors who's boss.
The RSO5R provides basic, cost-effective automation for doors weighing up to 500kg.  This relay-driven operator (the 'R' in its name stands for 'relay', in case you were wondering) includes a 5m hand chain for convenient manual operation as well as a three-button wall pendant.
Next up is the RSO5 – a 500kg operator that also includes a multi-faceted interface boardthat can be used for the connection of safety beams, access control keypads, pillar lights, proximity tag readers, etc.  This is the perfect marriage of power and intelligence.  The RSO5 also employs a unique double-disc brake system to ensure that the shutter stopssafely and reliably every time.
Last, but definitely not least, we have the RSO9.  Adjectives like 'powerful', 'brawny' and 'robust' don't really do this colossus justice, seeing as it is able to lift extremely heavy roller shutters weighing up to 900kg without even breaking a sweat.  It is ideal for automating the entrances to airplane hangars, loading bays and the like.  Ladies and gentlemen, this thing is a beast.
Right.  Pencils out.  It's time for that test…