Chris Desire Nimubona came to South Africa with a dream of taking access automation – and CENTURION products, in particular – back to his native Burundi and establishing his own security business.  Captivated by this amazing technology, Chris was determined to introduce his compatriots to the security and convenience afforded by access automation while simultaneously creating employment opportunities for his people and putting his company, D-Tech, on the map.
Chris' first encounter with CENTURION was through our Pinetown branch, where receptionist Emmalene Morgan helped him to enrol for the popular D-Series installation course and take the first crucial step towards realising his dream.
Emmalene fondly remembers meeting Chris for the first time:
"Last year this gentleman walked into Centurion Systems wanting to enrol in the D-Series Training and was so delighted and happy when we welcomed him to attend".
Upon successfully completing the D-Series programme, Chris dedicated himself to attending virtually every course offered by CENTURION.
"After every course he attended, he kept coming back to enquire about more training," says Emmalene.  "I took note every time he came to collect his certificates of the fast food delivery motor bike he was riding. So I asked him if that is what he was doing, and he told me 'I am just doing deliveries to get by while I do my training here in South Africa'".
Chris felt so passionately about becoming an ambassador for access automation and CENTURION in Burundi, that he even volunteered to do installation work for no payment just to obtain hands-on experience.
This is the inspirational story of Chris Desire Nimubona, in his own words.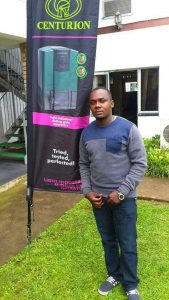 "I come from Burundi. I came to South Africa in search of a better life, and decided to attend some training on CENTURION products. I asked around about where I can do training on sliding gates, and eventually visited the [CENTURION] Pinetown branch, which is where I met Emmalene. She was the one who clearly understood my vision, and helped me to get started attending training on CENTURION products.
I started installing gate motors in Burundi earlier this year, and I was telling everyone to use CENTURION's products. My country didn't really have a wide variety of systems for securing homes and businesses, which is why I decided to learn more about CENTURION's security solutions. I completed training courses for installing swing and sliding gate motors, intercom systems, garage door motors and traffic barriers, as well as troubleshooting.
It has always been my dream to have my own company, and I have big plans for D-Tech to sell CENTURION here in Burundi and other parts of East Africa. I want to introduce more people to CENTURION.
Whenever I need any technical support or advice, I always contact [CENTURION exports consultant] Yves Djuma, who is always happy to assist".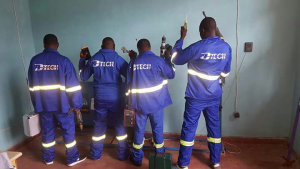 Through his hard work and dedication, even in the face of difficult circumstances, Chris has managed to grow his business back home, even employing a team of technicians to help with the installation and maintenance of access automation equipment.