In the acclaimed music documentary Metal: A Headbanger's Journey, Canadian anthropologist (and heavy metal fanatic) Sam Dunn recounts his youth in British Columbia, and particularly his quest to discover bands that pushed the envelopes of auditory heaviness. While Dunn started out banging his teenage head to fairly traditional hard rock bands like England's Iron Maiden, he soon found himself craving something a little heavier and graduated to the more extreme subgenres, such as the bands that emerged from Florida in the United States in the early 1990s.
Much like the headbanging anthropologist mentioned above, commercial sites require the heavy-duty stuff when it comes to controlling access. While Dunn satisfies his appetite for heavy with blast beat drums and down-tuned electric guitars, that high-volume office park, sport stadium or shopping centre rocks to the tune of easy installation, minimal maintenance and robust construction.
So, crank it up to eleven and check out these powerful FAAC commercial solutions for that heavy-duty site:
Bollards
The FAAC bollard range includes solutions for vehicle traffic control in residential, commercial, industrial and urban areas and boasts FAAC's celebrated hydraulic technology as well as high-quality components ensuring exceptional performance and greatly simplified installation and maintenance, not to mention tough-as-nails construction.
Door automation solutions
FAAC products embrace a pronounced flair for aesthetics, favouring sleek elegance not only in terms of design (which, to be fair, is positively sublime), but also in terms of operation, opening and closing in absolute comfort, silence and style. The Italian brand's door automation solutions are leading edge in terms of their looks, which is becoming a critical requirement in the design of access control equipment. Particularly with door automation, where the operators are more exposed to the user, the requirement is for something that is modern, sleek and befitting the style and construction of the building. One just has to look at FAAC's ASD range to know that they satisfy this requirement.
Hydraulic traffic barrier
Need dependable access control for that particularly wide entrance or exit? When standard boom pole lengths just won't do, the FAAC B680H traffic barrier has you covered. Customisable for roadways up to 8m and capable of delivering two million cycles of continuous use, this powerful barrier offers a reliable solution for even the most demanding of traffic control applications.
Industrial gate motor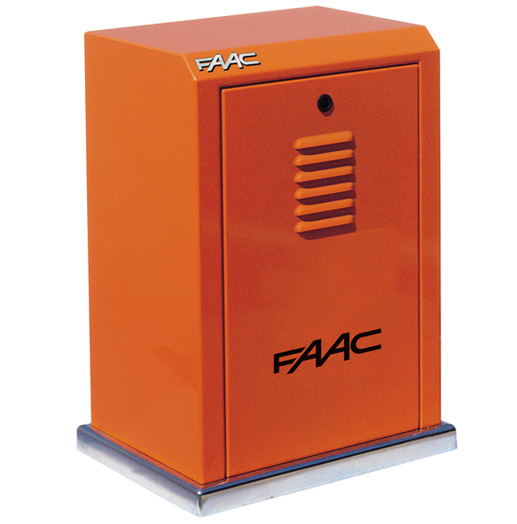 FAAC's 400V behemoth, the 884MC 3PH, has been manufactured to handle the heaviest commercial- and industrial-type gates in the simplest, most convenient way, and is capable of automation gates weighing up to a mind-blowing three and a half tonnes. Just let that number sink in for a moment. To put it in perspective, that's roughly the weight of an adult hippopotamus.