Who doesn't like a bit of bling? Whether you prefer a simple, tasteful set of cufflinks, an understated wrist watch or you have a penchant for Lil Jon levels of ostentatiousness, there's just something about accessorising that makes an outfit feel complete. Accessories can tie a suit together, accentuate that little black dress or even draw attention away from a poorly-chosen item of clothing. It can emphasise certain attributes while diminishing the harshness of others.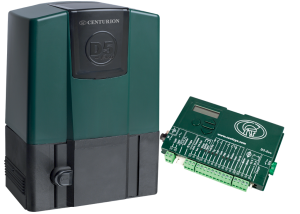 While we won't be stocking decorative, sequin-covered sleeves or gold baseplates for the D5-Evo any time in the near future, you can accessorise your gate motor with all the latest access control solutions. The D5-Evo integrates seamlessly with a number of ancilliary security products, including…

The SMARTGUARDair keypad
Let's get straight into the good stuff: the SMARTGUARDair is completely wireless and can communicate with up to 15 NOVA code-hopping receivers…like the one built into the D5-Evo controller. Security, meet convenience!
Most compelling features:
• No messy and unsightly cables
• Easy installation
• Activate up to 15 compatible devices
• Stores up to 1000 unique codes comprising one to ten digits
The G-SPEAK Classic+ intercom system
Ever wish that you could be two places at once? Now you can! With the G-SPEAK Classic+ GSM-based intercom system, your mobile phone becomes the intercom handset, so you can answer your intercom from virtually anywhere.
Most compelling features:
• Answer your intercom – and open your gate – from anywhere with a 2G network
• Minimal cabling required
• Crystal-clear speech quality
• Monitor by receiving SMS alerts
Photon infrared safety beams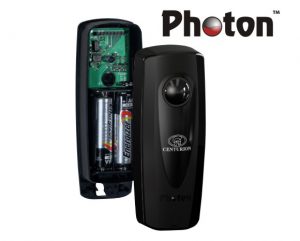 Okay, the presence of the word "safety" in this product's name probably tipped you off to the fact it isn't so much an optional extra as it is a must-have. If you have an automatic gate, or you're planning to automate, then you definitely need some sort of detection device in place to ensure that your installation is as safe as possible and the gate won't close on kids, pets or vehicles. Photon infrared beams represent the easiest way to achieve a safe automatic gate installation. 
Most compelling features:
• Transmitter is wireless – no digging or tunneling under the driveway
• 30m range
• Supremely easy to align thanks to audible feedback
• Effortless mounting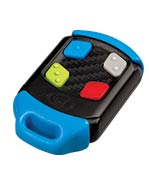 New-look NOVA remote controls
If the overall objective of accessorising is to look good, then the new-look NOVA range of remotes with its stylish carbon face and durable, multi-coloured silicone buttons is exactly what the bling doctor ordered.
Most compelling features:
• It looks so good!
• Silicone buttons designed to last and last
• Secure code-hopping technology makes it very difficult to copy or clone
• Easy battery replacement and visible battery-low indication