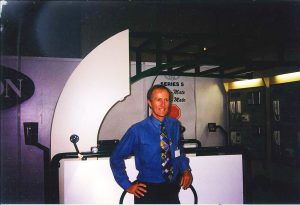 His hair may have been a little darker and fuller, the smile lines at the corners of his mouth – like tattoos of happy memories – a little fainter, but there can be no doubt that the man in the photograph wearing the smart navy-blue shirt and piebald tie is CENTURION MD and founder Pat Dickens, a man who, as a fresh-faced young engineer from Kimberly, dared to dream at a time when dreaming was all but outlawed.
Could the man in the photo, taken from a sizeable stack that marketing director and Pat's brother-in-law Richard Rohman lovingly keeps in his desk drawer, have known that, some day, his gate motors would be used on virtually every electric gate in South Africa? And would he have believed it if someone had told him that, in the near future, his solutions would automate the entrances to apartment complexes, office parks, airports andpalaces? There's no way of knowing for certain, but the man in the picture has a fire in his belly, a fire that he would not allow financial hardships, economic recessions or the hordes of naysayers that told him it couldn't be done, to extinguish.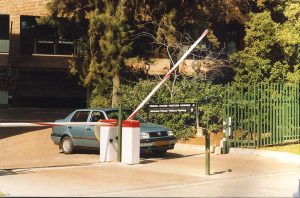 As CENTURION's co-founder and someone who has been with the company virtually from the very beginning, Richard Rohman appears in many of the grainy old photographs, sometimes mustachioed and sometimes
sans
facial hair. Now in his fifties, Richard is as much an energetic firebrand as he was in those early days. He has since traded in his box-shaped Volkswagen Jetta for a vehicle that epitomises Richard's love for adventure and the outdoors, and nowadays one is more likely to find him poring over an Excel spreadsheet than fiddling with a multi-meter, but Richard was absolutely indispensable in securing CENTURION's legacy as the
undisputed leaders in gate automation and access control
.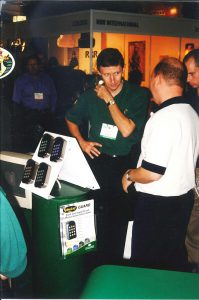 Another picture shows the
SupaSlida
, the seminal
sliding gate motor
that laid the foundation for future successes such as the
D5
, of which there has been some
700, 000 sold to date
. With the release of the
D5-Evo
– the evolution of the D5 footprint which added an
intelligent LCD interface
and
sophisticated motor control
, among other features – CENTURION achieved superstar status within the world of
access automation
. The original D5 slider built upon a
bedrock of reliabilit
y, and the Evo's addition of
futuristic technology
launched the brand into the stratosphere.
From the lush mountains and valleys of the Mpumalanga province to the vast open planes of the Free State, from Tswhane to Table Mountain, South Africans – and people the world over – simply love the green CENTURION motors. So the next time you're out and about, be sure to #CheckTheMotor!