OPEN AND CLOSE IN ABSOLUTE SILENCE
VERSATILE AND STYLISH
The FAAC 950N2 automation (with spring closing system) can be installed both on the architrave and directly on the structure of the door. The automation housing cover is supplied in anodised extruded aluminium.
As an alternative, it can be supplied in moulded ABS to be ordered separately.
The 950N2 automation can also be used to automate double-leaf entrances by setting up two units in a master/slave configuration allowing the double-leaf to be moved as if by a single system.
SAFE AND INTELLIGENT
The automation system is equipped with two electronic boards: 950N2 MPS (control board) and 950N2 I/O (input/output board). A microprocessor controls all door activity in real-time and a magnetic encoder continuously detects its angular position. The operating logic (automatic, manual, night, open) can also be selected via an integrated selector.
The system is manufactured in conformity with the new European Safety Standards. The speed and force are programmed according to the dimensions of the door. If an obstacle is detected, the door re-opens immediately and as it closes, it checks, at reduced speed, that the obstacle is no longer present.
POWERFUL AND RELIABLE
Carefully selected mechanical and electrical components mean that our 950N2 automation system is able to move leaves weighing over 360 Kg in continuous use, while always maintaining absolute operational safety.
STANDARD FUNCTIONS
• Operating logics: AUTOMATIC, OPEN, MANUAL/NIGHT
• Self-learning of open and closed positions and door weight measurement
• Anti-crushing safety device active during both opening and closing
• Selectable "PUSH and GO" function (commands the opening by simply pushing the door)
• Selectable "ANTI-WIND" function (ensures that the door is closed even if there is strong wind)
• Closing thrust to ensure that the door closes
even if there is a strong wind
• AVS function (Anti Vandal System) to protect the motor if the leaf movement is forced
• Manual operation in the event of mains power failure
• Adjustment trimmer for opening speed, closing speed and pause time
• Can be used with microwave radar, infrared sensors, laser sensors, push-button controls, photocells, electric locks, locks, KP EVO programming unit, FAAC radio controls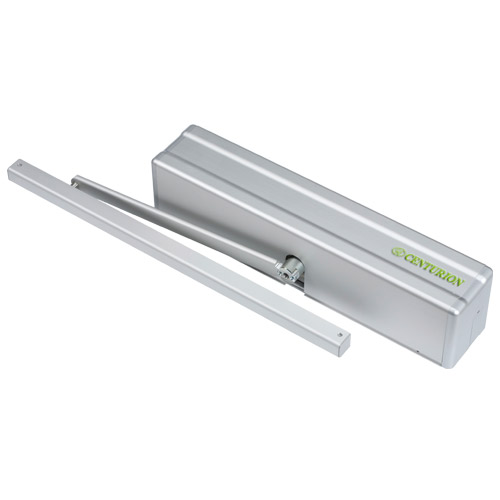 | | TECHNICAL CHARACTERISTICS | |
| --- | --- | --- |
| | Power supply | 220-240 V~ - 50/60 Hz |
| | Max power | 100 W |
| | Stand-by power without accessories | 5 W |
| | Frequency of use | 100% |
| | Electric motor | 24V motor |
| | Max. accessories load | 1A - 24V |
| | Electric lock power supply | (N.O./N.C.) 24V / 500mA max |
| | Dimensions (LxDxH) | 530x160x105 mm |
| | Weight | 10 Kg |
| | Operation in the event of a power failure | Manual push/pull opening - Spring closing |
| | Max leaf opening angle | 100° - 125° |
| | Opening speed adjustment | 4 - 10 s (adjustable |
| | Closing speed adjustment | 4 - 10 s (adjustable) |
| | Partial opening adjustment | 10% - 90% of total opening |
| | Pause time | 0 - 30 s |
| | Night pause time | 0 - 90 s |
| | Encoder | Standard |
| | Protection sensor monitoring (EN16005) | Standard (may be bypassed) |
| | Low Energy movement (EN16005) | Standard (may be bypassed) |
| | Operating temperature | -20°C to +55°C |
| | Protection rating | IP 23 (for indoor use only) |
| | Compliance with standards | EN 16005; EN 61000-6-2; EN 61000-6-3; EN 13849-1; EN13849-2 |