Your guide to solar-ready access automation solutions
With our range of solar-compatible access automation solutions, you can have it all wherever you are, and experience our industry-leading and award-winning technology in even the most remote locations.
Our solar-ready range includes: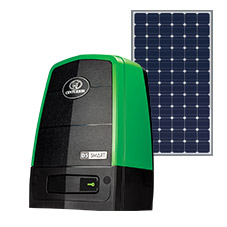 Gate motors
We produce the most innovative, robust and reliable gate motors made from the most durable materials and operating at high speeds for maximum security – perfect for controlling access in any environment and all ready to harness the power of the sun.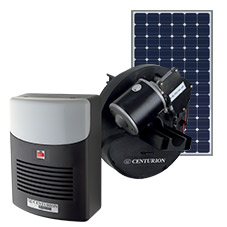 Garage door motors
With whisper-quiet operation, extended battery life and easy installation, our solar-ready garage door motors are the automatic choice for domestic sectional, tip-up and roll-up garage doors.
Traffic barriers
CENTURION traffic barriers are designed to handle heavy traffic volumes and can perform thousands of operations a day. Their robust construction ensures reliable long-term performance even in harsh environments such as mines.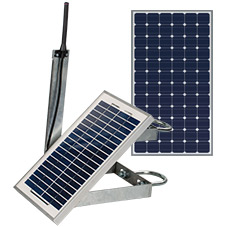 WiZo Solar
The WiZo-Link Solar Repeater is a self-contained device comprising a WiZo-Link with an onboard Lithium-ion battery, solar panel, mounting bracket and wiring harness. This repeater will allow you to expand your WiZo-Link network even where no power source is readily available.
Why go solar?
No electricity? No problem!
Sunshine is…freedom! Where there's no mains power available at the site, as is often the case with very remote installations, solar power offers a reliable alternative power source and saves you the cost and effort of having high-voltage cables routed from the nearest outlet, which is often many kilometres away from the system.
It's a renewable energy source
Solar power produces renewable or "clean" energy, meaning that it cannot be depleted or exhausted and is naturally replenished by the Earth's own resources, in this case the sun. In other words – the system won't run out of power and is not dependent on human intervention.
The best power failure autonomy
Power outages can leave a person feeling a bit, well, powerless, so why not choose a security solution that lets you operate completely independently of the country's utility grid?
Environmentally friendly
Electricity is generated by burning fossil fuels such as coal, which produces greenhouse gases that contribute to global warming. Because solar power is harnessed using natural resources, it does not produce such emissions and therefore benefits the environment.
Easy to maintain
Besides requiring a routine wash every now and again to clear away any dirt, leaves and other debris that may have accumulated over time, solar panels are practically maintenance-free!