Users of CENTURION's
G-WEB PLUS
online interface will now be able to populate a
useful central contact list
from which they can conveniently import contacts to their devices.
The web portal, which was launched as a companion product to the
G-SWITCH-22
GSM module
in 2011, has undergone a dramatic transformation in recent months with both
cosmetic and functional changes
at the order of the day. Since its genesis,
G-WEB
has evolved to meet client
usability
and
security
needs, but the true epoch of its ongoing metamorphosis was when "
PLUS
" was affixed to the product's name, for it signaled a new era marked by the addition of a plethora of new features.
While G-WEB was originally launched as a management and administration portal for what was at the time CENTURION's sole GSM product, the aforementioned G-SWITCH-22, it has since become a turnkey solution complete with a device health monitor and the ability to download transaction logs indicating not only device interactions, but also changes made to the system settings.
With the improvements to G-WEB, CENTURION is another step closer to embracing media mogul and communications pioneer Marshall McLuhan's concept of the global village, and creating an environment in which the digital and the corporeal worlds converge.
In conclusion, G-WEB PLUS is an altogether more mature and well-rounded offering than its predecessor and, judging by the paeans of praise pouring in from the public, one that is a hit with its users.
To set up a contact list,
log into
G-WEB PLUS
and, on the home screen, click on the
My Contacts
menu item:

To add a contact, simply click on Add Contact to the bottom left of the screen:

You'll now be presented with a pop-op screen. Once you've completed the requisite fields, simply click on Add to complete the addition, or click on Done Next to add more numbers.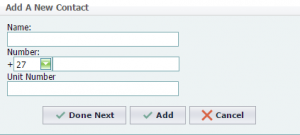 Should you wish to add a number to a device using your contact list, navigate to that device's access numbers, and click on Add Number from Contact List:

Have you checked out our series of G-WEB PLUS video tutorials on YouTube? Watch them here.